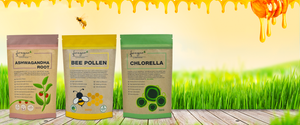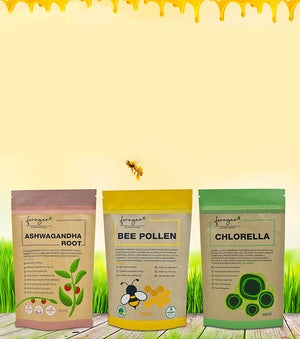 The Finest Superfoods
on Earth
We supply only the best Superfoods from around the globe
I have been very fortunate in my life to travel to many parts of the world, in search of fabled superfoods. Through my travels, I've been able to source these nutritionally dense superfoods from their native countries and regions from across the world. Some in fact, from our very own backyard in Australia.
Strong relationships nurtured over time with our local farmers has allowed us to not only provide you with the finest natural nutrition, but also provide it to you at market leading prices. It's really quite simple, you get more for less at Forager Superfoods. Make the best decision you'll ever make by investing in yourself.
Buy your 100% Australian owned, organic superfoods online with us now. Your body will thank you for it!
Natural Wholefood
Forager's organic superfoods are all natural, nutritious whole foods. This means that our powders are 100% whole plant body and do not contain any cheap fillers.
Native Origins
We have spent years of research and time travelling the world, to bring you the finest organic superfoods this planet has to offer. All our products are sustainably sourced from local farmers, ensuring the highest quality for all our fellow foragers.
Organic
We only stock organic superfoods. This ensures that none of our products have been touched by pesticides, fertilisers or chemicals. This ensures clean, green premium nutrition.
Super Fresh
Almost all our powders are freeze dried, helping to lock in the nutritional goodness found within these special foods. Our process creates long product life spans, lasting between 24 – 36 months.
Quality Packaging
With the aid of our food specialists, our packaging has been closely selected to ensure that our premium organic superfood powders remain forager fresh for all to enjoy.
Express Delivery
FREE Express Shipping for all online Australian orders over $85 (or $300 overseas). Picked with love and sent to all our fellow foragers in their very own special packs.
Prepared with love and care
We only stock organic superfoods. This ensures that none of our products have been touched by pesticides, fertilisers or chemicals.
Not only do we see this as better for the health of our fellow foragers, but also our natural world.
★★★★★

I'm a first-time user and have been trialling your bee pollen to try and improve my energy levels after kicking my caffeine habit. I've been sprinkling on my yogurt for breakfast and surprised with the effects so far. Similar energy hit to coffee without the caffeine lows, keep you posted.

Sarah – Mullumbimby
★★★★★

The thing that impressed me most about Forager Superfoods is their commitment to using only the highest-quality, organic ingredients. As someone who values clean, whole foods, this is something that I really appreciate. You won't be disappointed! ♥️

Valeriana - Melbourne
★★★★★

Hi Forager, I've been using your Acai powder to give my morning shakes and my immune system a bit of a boost during winter. So far so good and loving my skins response so far (less break outs!)

Meghan – Richmond
Forager Superfoods
Acknowledgement of Traditional Custodians
Forager Superfoods acknowledges the Traditional Custodians of the land on which we operate, live and gather, and recognise their continuing connection to land, water and community. We pay respect to Elders past, present and emerging.